Over the course of the quarter, we embarked on what can only be described as a tourist's fever dream. We visited the Pantheon, the Roman Forum, and the Baths of Caracalla, where we discussed gladiators, Vestal Virgins, and emperors from antiquity. We viewed prized art and sculptures by the greats — Michelangelo, Raphael, and Caravaggio. We saw a large handful of some of Rome's 900 uniquely beautiful and historic churches, including the treasured St. Peter's Basilica. Masterpiece after masterpiece, each excursion left me bewildered and blessed to witness the creativity and knowledge of the past.
And ascending even higher — the joys of Italian dining. On this trip I experienced the best meals of my life, from the pizza and pasta to the gelato and pastries. One bite in and I immediately knew what dining in Rome would be like: euphoric and thrilling at every meal. I tasted carbonara for the first time, and my brain exploded. I bought fresh mozzarella and pesto to be enjoyed in my own kitchen. I took a cooking class and learned the ins and outs of making my own pasta dough and ravioli. Meals there weren't only something to feed the stomach, they were fuel for the soul.
Then the roller coaster drops and I freefall. The first week of the program, two apartments were already in quarantine mode, as people started testing positive for COVID. In class, the sick ones joined us from their homes, as their faces were projected on the screen over Zoom. To come overseas, we all had to test negative and be triple vaccinated, but that didn't guarantee that we wouldn't fall victim to the virus. Throughout the term, more and more people got sick and the virus loomed over our heads as we did our best to avoid it, but simultaneously tried to have the time of our lives.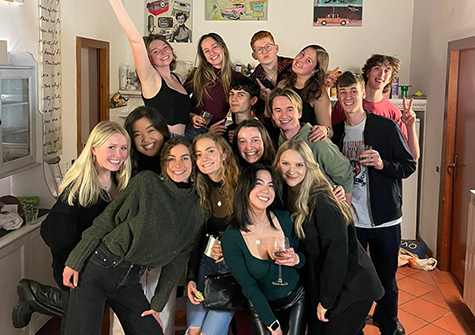 But eventually the roller coaster climbs up and I'm soaring once again — I saw as much of Italy as I could during my 10-week stay. In Florence, I met Michelangelo's David and ate sandwiches that now rank as the best I've ever eaten. In Venice, I rode a gondola, and celebrated their tradition of Carnevale by wearing a Venetian mask. In Sorrento, I indulged in the coast, the sun, and the seafood. Each time, I took advantage of a new city to gain a global perspective and exposure to magnificent ways of Italian living.
And up even higher — unforgettable stories from the kindness of locals. During a weekend in the small town of Cortona in Tuscany, my friends and I met an Italian stranger as we walked through the square. He took us into a quaint art studio that he ran in his retirement, brimming with paintings and art supplies. We painted, we chatted, he invited us to dinner, we eagerly said yes. At night, we visited his home in the hills of the little town, where he prepared us an extravagant dinner. He told us stories about his life and took us for a midnight tour of the town. I remember my excitement during the entire night, as I felt special to be a bystander of the moment, like I was living out a scene in a travel movie.
And when you least expect it, the ride spirals with another drop, and stress and panic follow. Challenges occurred that were out of my control, and I could only do my best to stay composed and carry on. On a random Thursday night, my phone and wallet were stolen as I chatted away with an Italian local, one of the first Italian friends I had made. Another day, I incorrectly invalidated my bus tickets as I rode the bus to the train station and was fined 50 euros by a guard who inspected the buses. On these days where things went awry, my friends comforted me and I went to sleep wishing it had been a dream.