AC Milan went into their away game against Cagliari knowing that they have their destiny in their own hands having taken undisputed top spot in Serie A, and they racked up a third straight league win.
Sardinia has been a happy hunting ground for Milan in recent memory but with Cagliari scrapping for their Serie A lived it was never going to be easy, which means it is perhaps not surprised that one goal was enough to win it courtesy of Ismael Bennacer. Below is a tactical analysis of the win…
Shifting the pressure
The most notable point was how narrow Milan were to stifle Cagliari. In this picture you could see how tucked inside Davide Calabria was to press the home side.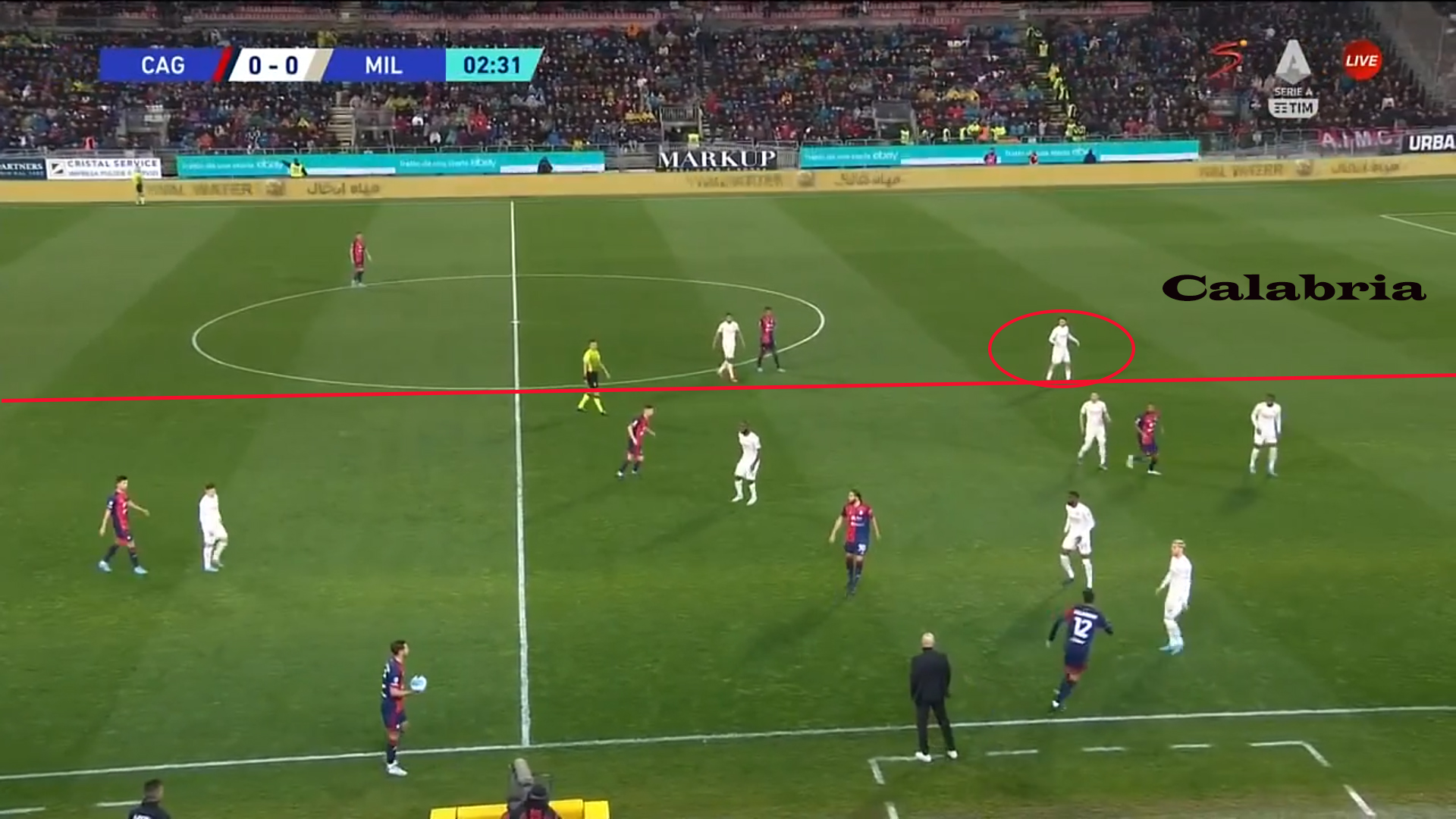 Naturally this would lead to switches of play from Cagliari, like how Joao Pedro is attempting below, but playing a 3-5-2 limited the wide options of Cagliari to a single man: Lykogiannis.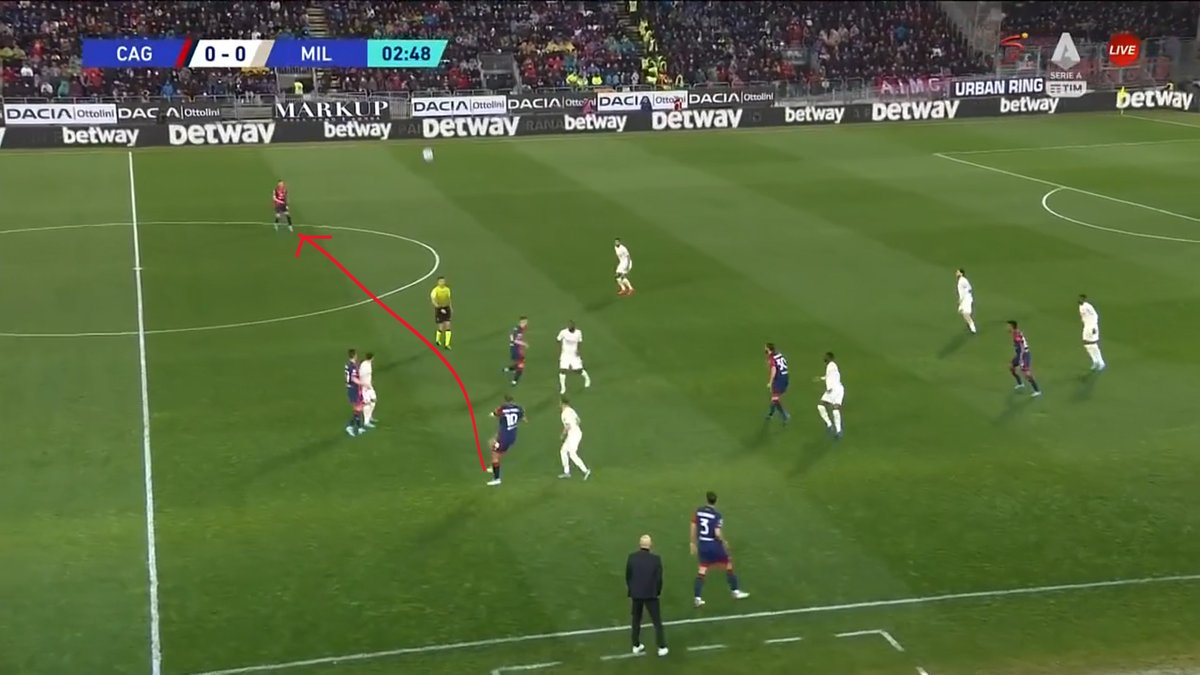 Using the touchline as an extra man Milan put numbers towards the flanks and pressed Cagliari to suffocate them, something seen done very frequently by Flick's Bayern Munich and now under Nagelsmann.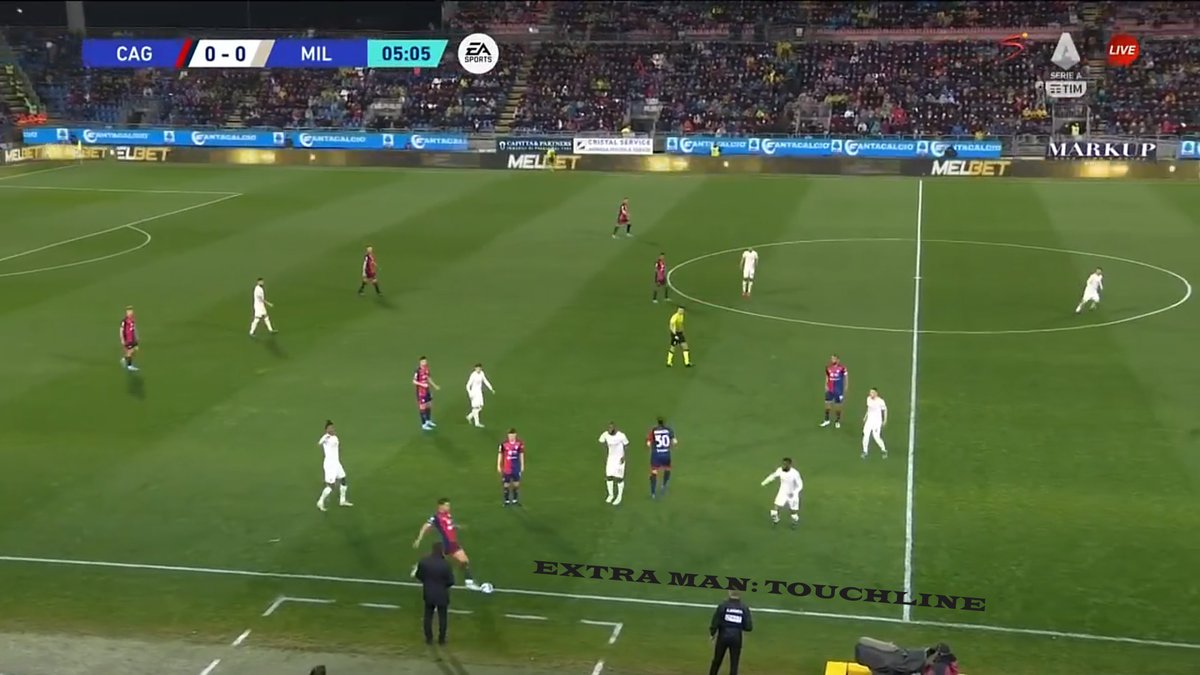 Some Milan fans were puzzled by how central Leao was in comparison to other games. This was due to a tactical instruction given by Pioli, as the team would launch long balls into Giroud and have runners off him.
In this situation he pulled out Lovato from his position and put Goldaniga in a 1v1 with Leao, while Diaz tried to receive a flick-on but it still was a 2v2 situation.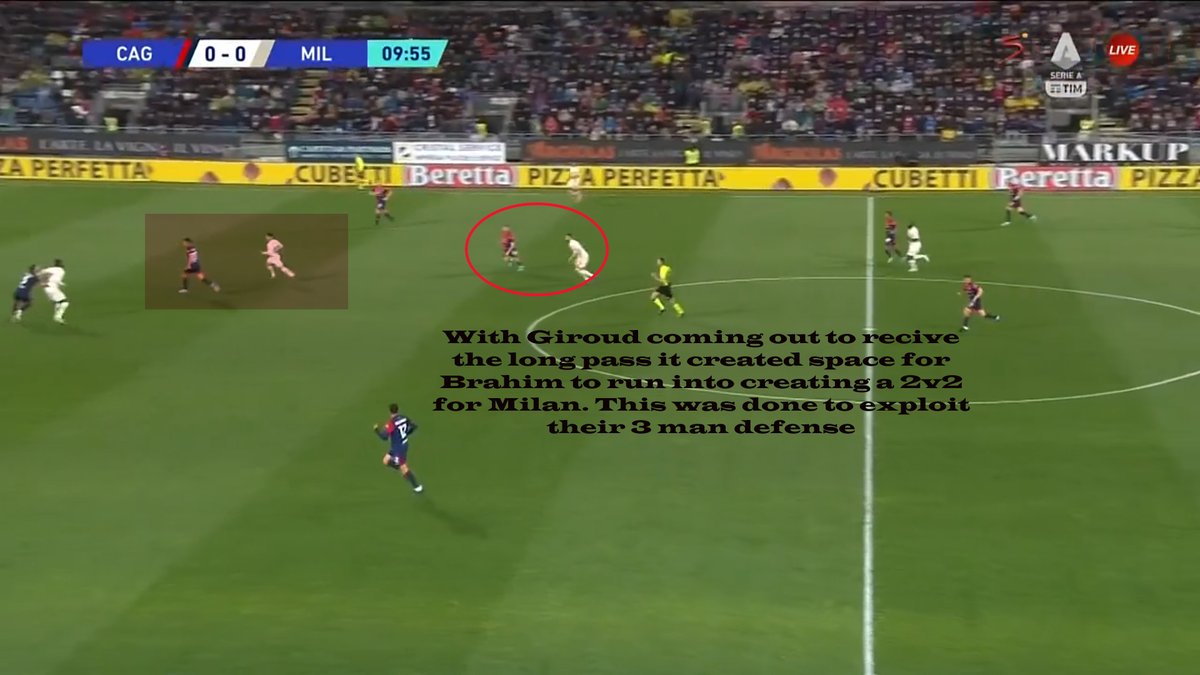 From the outset we knew Theo Hernandez versus Bellanova was going to be a real one-on-one battle and it didn't disappoint. To facilitate more positional movement, Leao and Theo even exchanged their markers to confuse them.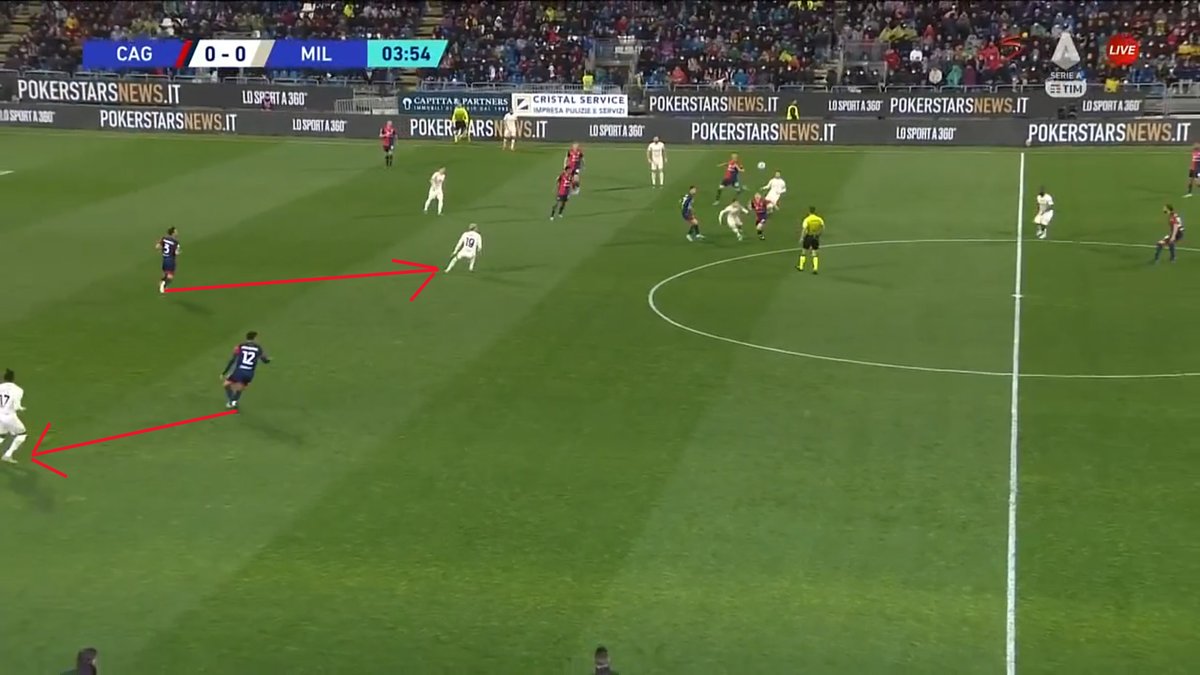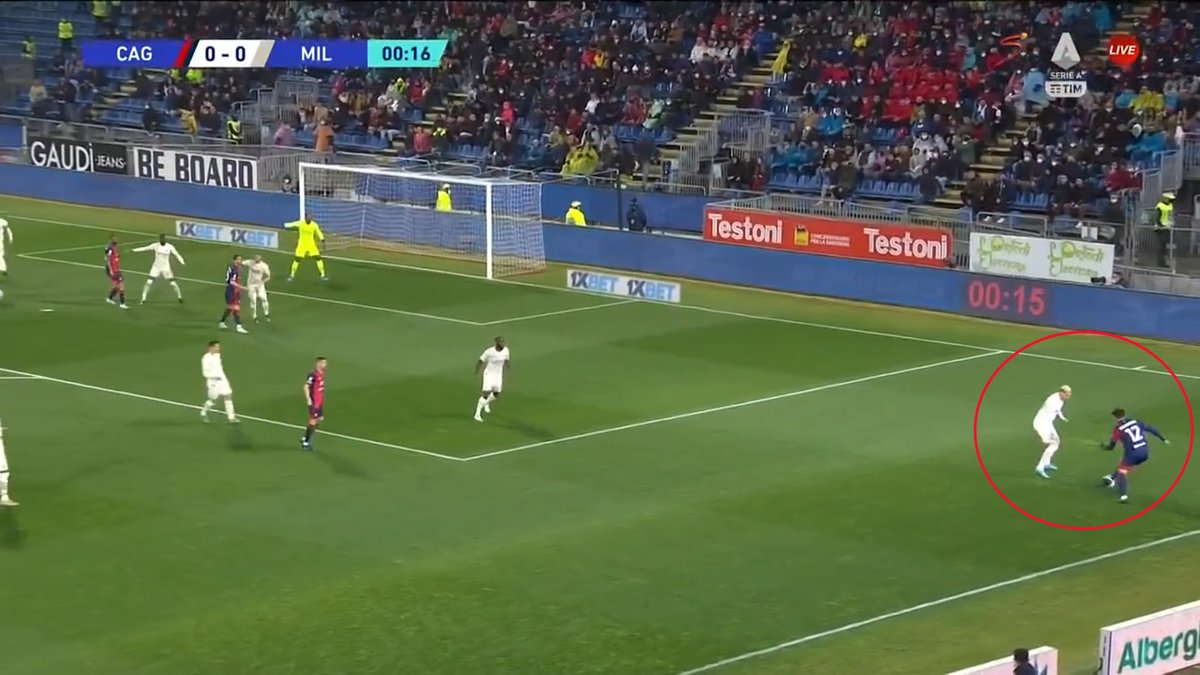 Poetry in motion
Now here is something that deserves some explaining in detail: Piolismo is not just about creating passing moves with short passes, but rather it can be done with clever movements and positional interchanges.
Bennacer sits back as the third centre-back in the four-man rearguard while Tomori plays as a wide centre-back. Theo Hernandez tucked in as the left defensive midfielder in the double pivot. While Pedro marked Kalulu and Pavoletti marked Tomori, Dalbert was caught up with Bennacer's movement and pushed up.
This created a huge void in the left flank. so Bellanova spotted Theo unmarked and ran to cover him meaning he tucked inside and Leao suddenly pulled wide to the touchline and this created a huge gap between Goldaniga and Lovato, which Theo ran into.
Another way they created space was when Maignan pushed up and Tomori pulled wide and Kessie pushed to the right defensive midfielder role, as it created a huge space which Theo occupied. To occupy Bellanova, Bennacer played wide as a left-back and Marin was occupied with Kessie, so nobody marked Theo.
High line, traps and speed
To facilitate the high press, Milan played a high line with Tomori and Kalulu. In a sequence Cagliari won the ball back and launched a counter and tried to find their main trouble maker Pedro, but thanks to Milan's high line he was offside even despite being close to the halfway line.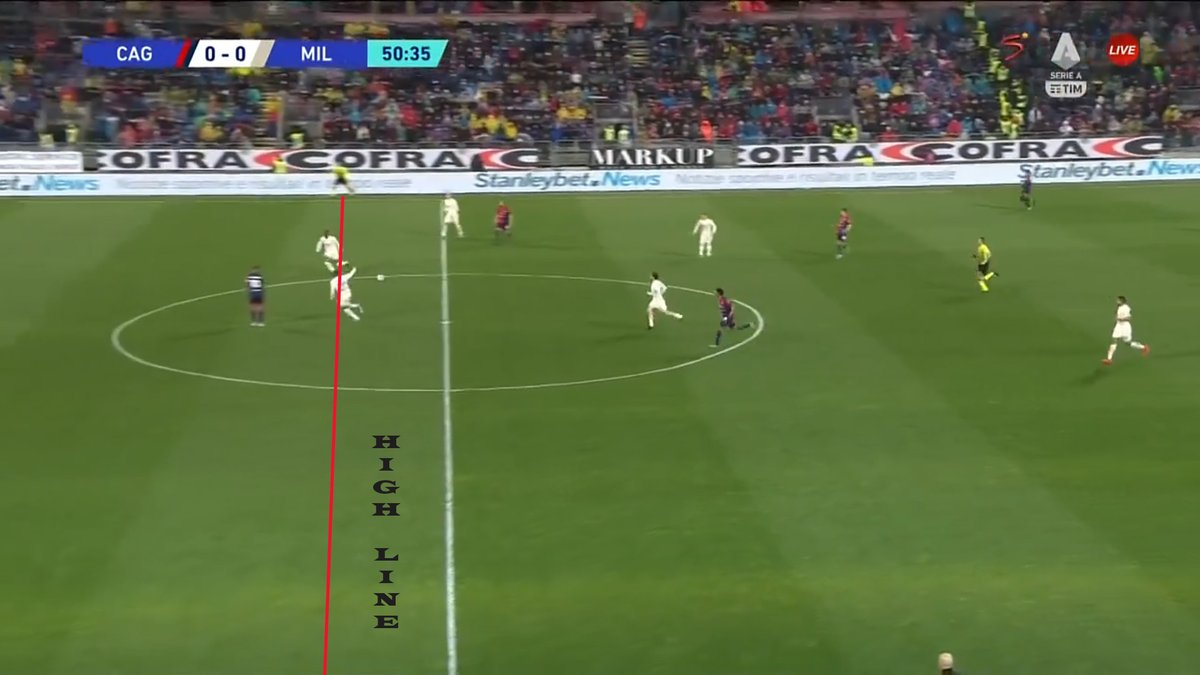 Playing a high line will leave a lot of space behind the defense, but thanks to Tomori's recovery pace Cagliari were kept shackled.
Pace also helps in positioning. A look at the chance for Joao Pedro below gives us a better idea as to how Kalulu was quick to change his position to intercept his shot.
Lastly, the build up to the goal wasn't the only time Milan strung together passes. There were these movements as well…
Conclusion
It wasn't vintage from Milan just like the Empoli win, but they found a moment of quality when needed that can often pick apart these battles of attrition. Not only that but there were plenty of chances created this time, such as the misses by Giroud and Brahim in the first half that could have made for an easier ride.
It was good to see plenty of energy and channeled intensity from Pioli's side, and the two-week international break should also help some players get their batteries recharged for the final eight league games.